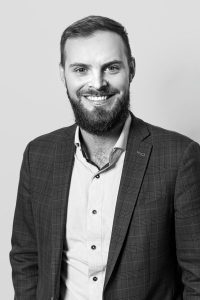 Marc-Olivier Murray
ERP Business Analyst SR
Marc-Olivier joined the Les Services SiPD Inc. team in the summer of 2016. Originally from Quebec City, he brings to the team experience he acquired implementing in multiple locations. A multi-talented profile, he holds a technical degree in computer technology, police technology and a university degree in accounting and operations management.
Passionate about personal improvement and constructive feedback, he believes the best way to gain expert knowledge is by being hands-on. For his sustainability project and to promote healthy lifestyle habits in line with SDG Goal 3 targets, Marco would like to organize an Ultimate Frisbee team with his coworkers.
Marco is a great sportsman, when he is out of the office you will have the opportunity to see him on a golf course early in the morning or on an Ultimate Frisbee course in the evening. Also, if the opportunity arises, he does not miss the chance to play a good board game.
Acumatica Fields of Expertise